Today I printed out some of my favorite pics. They are now hanging on my office wall. One is from a vacation to Scotland last summer and the other is a photo of Julie Delpy. I shot it last year on an Open Air concert in the ruins of an old church in Nuremberg.
I find it very difficult to make good concert photos. You cannot use a flash because it would disturb the light atmosphere on stage. And because of the missing flash I produce camera shakes almost all the time.
This pic of Julie Delpy is one of my very few photos I'd grant kind of success - at least for my humble possibilities.
Apart from that I think that Julie is one of the most erotic women in Showbiz. Now that I'm Single again I'm allowed to say so and I'm even allowed to print out a DIN A3 version of that picture - which I did.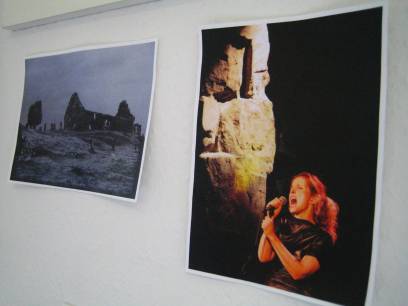 Here is the pic in larger format

While on the Autobahn I got a lecture of a poem by a friend. Unexpected and really great. Furthermore I got a call from a person I worried about a lot during the last days. He overcame a complicated surgery and I look forward to see him again. To hear that guy on the phone was by far the best moment of the day.
Over all ranking of the day: Good (Unbelievable but true)!