My colleague sn0wcat showed some jugglings with our red blinking balls. That balls are really a big thing. I made a very short video and I'm not able to keep it back from the world. You can download it [here] (7MB). You need the codecs for Xvid and MP3 to enjoy it.
I decided that I have to learn juggling, too. Sn0wcat provided some valuable tips and now I have to practise real hard. I'll keep you posted.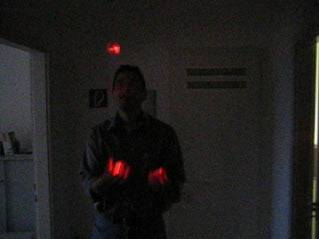 ---
I guess the D-Day of "Them" has already begun. On Friday I saw three of them. Imagine this: Three on a single day! Two seemed to be a couple. If they reproduce themselves fast I don't know how to stop an invasion.