When I was a child I loved soup with little characters made of noodles - alphabet soup.
I forgot about that soup for many years. Last weekend I got a bag of it as a kind of present and I was delighted.
Well, alphabet soup is way too precious to be simply eaten. So I tried to lay a little nonsense poem by the german poet Joachim Ringelnatz with the characters. The poem is about a male stamp that falls in love with the princess that licked - uuh - kissed it.

A poem made of alphabet soup. I can tell you that this is a really hard task. Until now I managed only the first half of the poem. There ain't enough "I" in it, the "W"s always flip upside down and one needs tweezers to grab the small characters.

My main thought was that all I did was to re-arrange the existing characters to make them a poem. The fact that I didn't add anything means that all of the information about the poem was already existing in the bag - it was only unsorted.
Can you imagine what poems, secrets and short novels are still hidden in one simple bag of alphabet soup?
That's a very inspiring thought for me. Poem Food.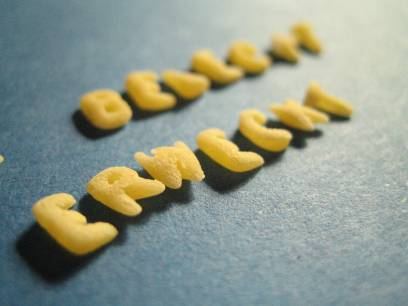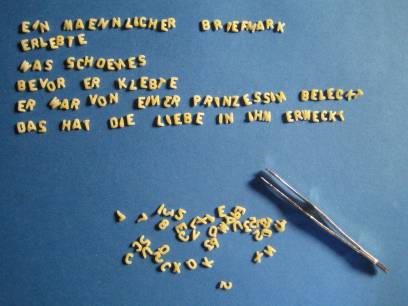 By the way: Here's the poem in German. Because Joachim Ringelnatz played with words a lot I'm not able to translate it.

Der Briefmark
Ein männlicher Briefmark erlebte
Was Schönes, bevor er klebte.
Er war von einer Prinzessin beleckt.
Da war die Liebe in ihm erweckt.
Er wollte sie wiederküssen,
Da hat er verreisen müssen.
So liebte er sie vergebens.
Das ist die Tragik des Lebens!