An evening at the theater in Nuremberg with two friends.
Heavy stuff because the play was about the Nazi trials in Nuremberg after World War 2.
I'm very interested in that topic and I therefore I liked it although the actors weren't as brilliant as in Weimar.
The theater was crowded with pupils and other teens. I guess most of them had to go there for some school reason. To bad that I didn't fetch any feedback of some of them. I have no idea whether the german teens in general are interested in the german history of the last century. Hopefully I can talk to some young folks in my circle of friends about their political thoughts.

On the court in front of the theater there's a big blue container called the "Blue Box". It's a very small experimental theater with an even smaller stage inside it.
I definitely want to see a play in that box some time in the next months.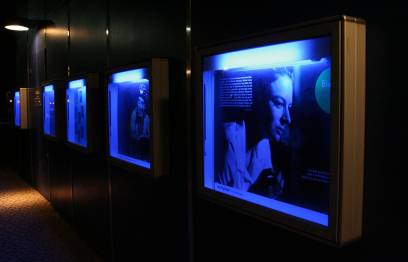 The outside wall of the Blue Box