I have a swiss pocket knife and I love it. It's called "Cyber Tool" and it is a knife with some tools for IT folks. Special screwdrivers for the small screws of Computer housings, tweezers etc.
Usually I have the knife in the same place as my Notebook - in the Notebook bag.
Today I was on a business flight to Berlin. Because it was only for one day I had only my Notebook bag with me and no real luggage.
Of course I forgot to remove the freaking knife from my Notebook bag.
I have to admit that the X-Rays at the airport security do a good job.
The woman at the airport in Nuremberg said that I can keep it because the blade is shorter than 6 centimetres.
So far, so good.
On my flight back i got nearly crucified by the security guy. A knife! The guy has a knife! I explained to him that it's only a small one according to his colleague in Nuremberg.
He said "Ha - we'll see", measured it and came up with gigantic 6.3 centimetres - 3 millimetres that separate the IT guy from the terrorist. He said, that my knife is even worse because it has tools on it.
Yes, it has tools, tiny tweezers - very frightening. He complained a lot about the morons at the security checkpoint in Nuremberg. I felt guilty because I live in Nuremberg - or close to.
But in the end forgetting about the knife was my fault and I had to return to the Check In and to abandon the Notebook Bag.
I was afraid that my Notebook is dead afterwards because everyone knows how suitcases are treated on an airport. Well, it survived.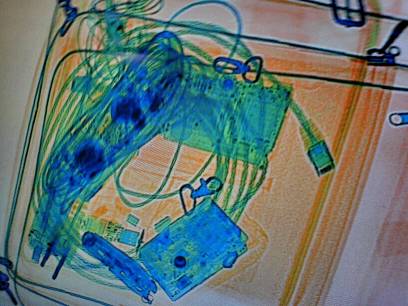 I made a photograph of the X-Ray screen. You can see my knife on the bottom left side.

A few weeks ago I visited the Metropolitan Museum in New York. On the roof-deck there was an artwork showing an alligator with lots of knives in it. All the knives were confiscated at airport security checkpoints.
It looked funny and compared to some of the knives in the alligator my Cyber Tool is very poor.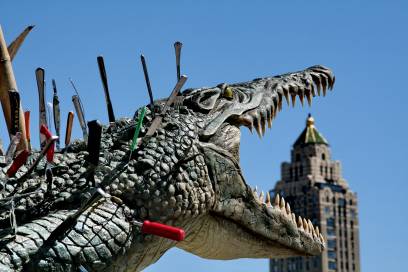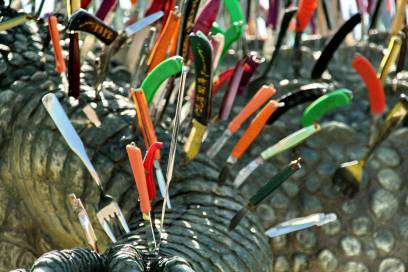 Artwork by Cai Guo-Chiang at the roof-deck of the New York
Metropolitan Museum.