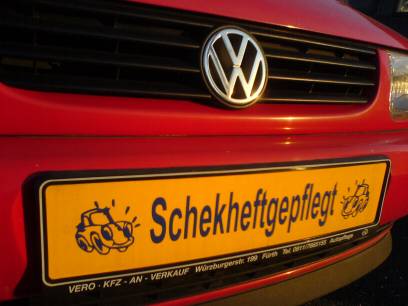 On my way from the office to my usually parking lot I pass a vendor for used cars.
Instead of license plates the used cars have signs with little advertisements like "With full service history" or "Funding right here". I walked by this signs very often but until today I wasn't aware that almost every sign has very obvious typos in it. Typos of the kind that make you goose skin.

The signs doesn't look like the owner of the car shop had made them himself. I guess the signs were produced in a professional sign-shop.
A car vendor not that familiar with German spelling is one thing but a sign-maker not being aware about the bullshit he is producing is another.
Economy in Germany can't be that bad if even bad sign makers can survive. Well, actually I don't know whether the unknown sign shop still exists.
The car vendor looks funny and friendly, therefore I think about whether I should give him a hint. But I'm not sure yet.
In the future I will enjoy the special signs every day after work when I return to my own car.