On the market square in Nuremberg there's a nice fountain, called "Schöner Brunnen" (= the beautiful fountain). It's one of the very few medieval sights that survived the war. Currently the fountain is surrounded by a tower of old plastic chairs that were sorted out of the soccer stadium. It's part of an art campaign that accompanies the World Cup.
Most of the citizens really hate the chair tower. They say it hides the old fountain and looks like a pile of trash. Probably that's the reason why I really like it.
For me art has to provoke and to create antipodes. It's amazing for me how trash like old chairs can mutate as soon as you put the stuff into a different context. To be honest, a lot of ordinary trash looks very poetic for me - even without declarate it as art.
Actually I walked around in Nuremberg because the night was very warm and I had no other plans. I took my tripod with me and therefore the chair fountain was a good target.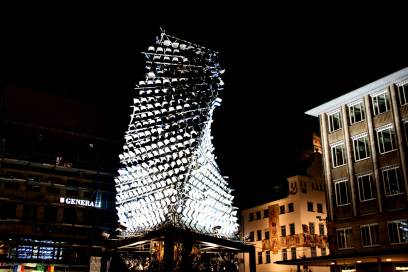 The disguise of the "Schöner Brunnen" by Olaf Metzel