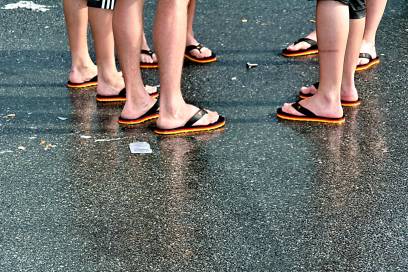 The third Word Cup match of the German team. The opponent was Ecuador. Although the match started during working hours at 4pm we went to the Adidas Factory Outlet.. This time our two biggest bosses joined us. It's not common that one has the freedom to leave the office for some soccer match, so I really appreciated that. It was quite funny to scream together with the big guys.
In the beginning it was sunny and very hot. 25 minutes before the end (the score was already 3:0 for Germany) a really strong rain started all of a sudden. Most of the audience hid in the parking garage but only approximately 100 fans stayed outside. Even our lot vanished more and more and in the end only 3 of us remained in the pouring rain. Although the rain stopped 5 minutes prior to the end of the game and the sun (and the rest of the audience) came out again, the 20 minutes in the rain were the funniest ones. We went wet to the bone within minutes and the drippy crowd screamed and sung all the time. My favorite action was yelling as loud as I could towards heaven "And this you call rain?".
As I walked around after the match the wet people looked the happiest. I think this was not because Germany won but because we had the opportunity to jump around in strong rain and to get wet without being branded as complete idiots. It was like being beamed back to childhood for 20 minutes. I loved it.
The most practical piece of clothing during this water-viewing seemed to be Flip-Flops. It's amazing how much of them you find as soon as you start concentrating on them. No I weared leather shoes. Probably I'm an idiot, anyhow.

A few more pictures can be found here... (But not much because I had to hide away the camera during the rain).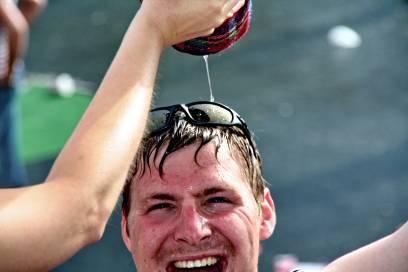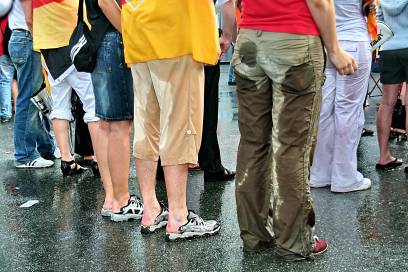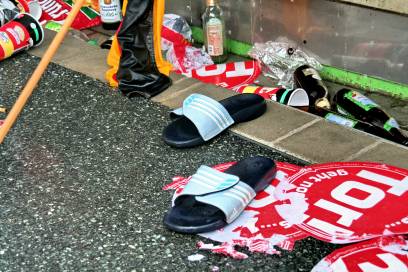 PS: Two postings about rain in a row are just coincidence. Actually these days are very sunny here in Germany.