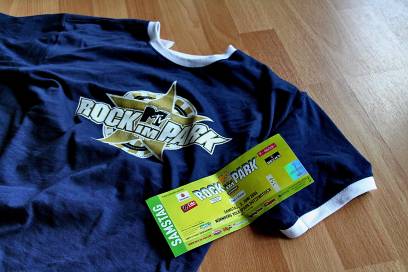 The bad news first: I lost all my pictures of the event. I have no idea how it happened but the memory card isn't readable any longer.
Shit happens.
I have had some really nice pictures of folks covered with mud. Lost and gone.
The good news: I discovered that one can walk around in parts of the area without needing a ticket. Therefore I will go there today again for some hours with The Fat Lotte for some more photos.

The Open Air was so-so. Actually I didn't like it much. It was cold and later in the evening it even rained a bit. The weather was the reason for my decision not to look cool but to stay warm and dry.
Well I went there with my god-damn hiking gear. Function pants, Fleece shirt, Gore-Tex jacket and hiking boots. I can't believe that I wore that stuff at a Rock concert. I really got old.
The first thing after arriving at the area was to buy a T-Shirt and to bind jacket and fleece around my hips. At least a little bit cooler than before but still embarrassing.
But for half an hour in the evening I was one of the winners. When the rain started the staff threw plastic rain capes into the audience and suddenly all the cool rockers looked like big red condoms with a big ad from T-Mobile on it. And I? I still looked like a waterproof hiker and not like a condom. Strike!

All the famous bands I listened to on the big Centre Stage were very disappointing for me. Deftones, Korn and even Tool acted very impersonal. I didn't even like the music although I like the sound of those bands in general. I realized again that giant stages are not my thing at all.
The smaller Alternastage was much better. The Zutons, the Streets, Keane, Juliette and the Licks, Bela B. and Kaizers Orchestra sounded nice. The latter was a strange band with a organ player wearing a white suit and a gas mask. They come from Norway and play a kind of Humppa.
What I liked best about music was the smallest area called Club Stage in a Circus tent. Young upcoming bands in a more intimate atmosphere. Hellogoodbye, Krieger, Art Brut and Kagerou were the names of the bands I visited. Those Kagerou folks were very strange. The come from Japan and look like a hardly full age version of the german Teenie-band Tokyo Hotel. Except the fact that they make a very hard sound and the lead singer articulates himself only with gurgling noises (maybe it's simply Japanese but I don't think so). There were lots of girls and they all screamed like hell to every stupid movement of the lead singer. He was rubbing his penis all the time or spitting water into the audience. I will never understand girls. For me it looked absolutely ridiculous. But I already said, I got old.

The best about Rock im Park was the audience. Thousands of small tents, millions of empty beer bottles and cans and filthy people. Great! But I hope I can show you a few of them tomorrow.

You may say that sounded not too bad in summary and ask why I didn't like it much. Well, for me a festival is a group thing. If you'd go there with a group of friends you wouldn't care about rain or boring bands. You would just have a great time.
I went there on my own and that was a little bit depressing and a not so good idea. Lesson learned.