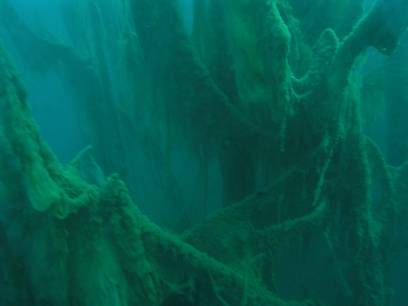 A tree in Ghost Forest. Shot by my friend R.

Back on the surface after a weekend of gloomy light.
My best friend R. and I went for a diving weekend in Dannigkow near Magdeburg. There are many old abandoned quarries and most of them are filled with water now. The surrounding rocks are overgrown and the scenery looks great.
The flooding of the quarries was a natural process and needed many years.
The people living nearby use the lakes for swimming not knowing that the best thing is 15m below them - Ghost Forest.
The rising water covered some trees and in one of the lakes the cold water covered a whole small forest.
We dived from one quarry to the next through an underwater canyon. There was this steep face below us leading into darkness. We hovered down and suddenly a big tree appeared. At first it was only a shadow in the green-blue gloomy light. As soon as we came near the very big tree looked like a giant cursed christmas tree. All branches were covered over and over with algae. We passed the tree and suddenly we flew through a whole forest of those ghost trees. Amazing!
R. tried to shoot photos with his new underwater housing and I was responsible for the orientation with compass and depth gauge. Usually I'm a real idiot when it comes to navigation but this times it worked more than well. For some reason we dived exactly as planned from quarry 1 to number 2 and through a second canyon to quarry 3 and stopped directly in front of the ladder we intended to reach. I was speechless.
After two dives we camped on a small campsite nearby. Actually we planned to barbecue but due to the hot summer every kind of fire was strictly forbidden. It ended up with eating my vegetarian barbecue sausages cold and raw. Baah!
But we got indemnified with a wonderful swim after nightfall in another small lake. The water was warm and had a wonderful scent of wood and moss. Only a bloody brass band playing loud awful german folk music in a restaurant nearby disturbed the evening. It was really bizarre.
The next day we did another dive at Ghost Forest and I liked that visit even more. There was wonderful light and the trees reminded me of masts of ghost ships out of the movie "Pirates of the Caribbean".

Diving in gloomy water, exploring cursed forests, sleeping in a tent, night swimming and a lot of boys' talk - that are the ingredients of a great weekend for me - and it worked out.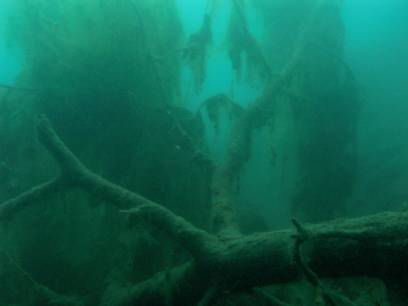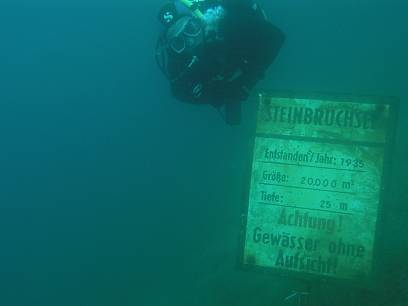 The caution sign is useless now because it was flooded too
and is in 8m depth now.
By the way: That's me on the photo.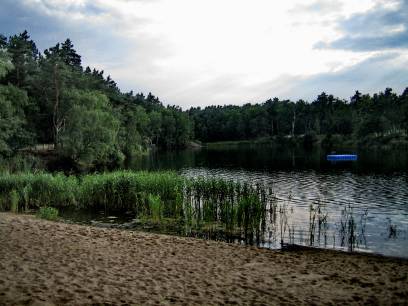 Small lake for night swimming