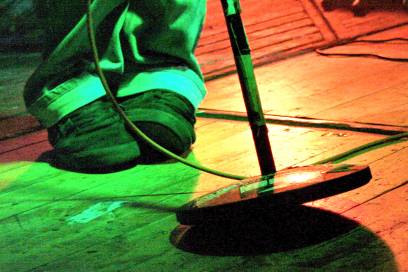 A small concert in a very small club in Bayreuth called KOMM. I haven't been there for several years. The band "Vivos o Muertos" of my colleague played at KOMM today and I stepped by. I'm always glad to visit "my" old home town.
The gig was cool and I liked the sound but I'm very unsatisfied with my photos of the gig. I'm not familiar enough with my SLR camera "The Fat Lotte" yet, I guess. My old small one produced better results on concerts. So that means that I have to practise with the Fat Lotte. Furthermore there was another photographer always running around like a jerk - even on stage. Facing the fact that is was a very small concert I didn't feel comfortable to act like him like a star photographer and that prevented me from shooting many pics.
During the concert I met a very old school friend on mine. The girl was in my class in Elementary School and I haven't talked to her for more than 25 years. It was funny to chat with her. She is married and has two kids. One of them is already 7 years old. Oh boy, we're getting older. Well we recognized each other after all the years so the age-thing can't be that bad.