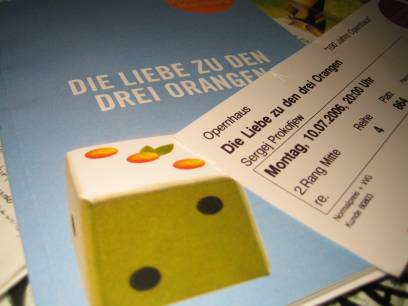 My fist visit ever to the Opera. It was a kind of revenge of a good friend of mine.
The guy is a friend of classical music. A while ago I convinced him to join me in visiting a concert of the Rock'n'Roll band "The White Stripes". The support band (I forgot the name) was very strange. They made only strange noises and the lead singer crouched around on stage grunting and yelling. Not even I liked it. For my friend it was a real cultural shock because he never saw such kind of performances before. At least the gig of the White Stripes was kind of OK for him.
As a return value for his brave jump across his musical borders I agreed to do such a border jump on an event he choose.
Well, he had chosen an opera from Sergej Prokofjew called "The Love to the Three Oranges". The opera is a hundred years old and adapts a very old russion fairy tale. The plot is more than strange.
Today was Opera-D-Day. I had no idea what to expect.
It turned out that the play was a very very modern production and also very funny. I saw men with body stockings, gods eating Hamburgers and a singer with a very deep voice and plastic breasts. That was nothing I had in mind when thinking about the Opera. What should I say - I really liked it and I'm sure that today wasn't the last time I visited the Opera.

Now it's my turn again to choose the next border jump. Well, I already have some ideas but I'm not sure whether my friend is already prepared for Rammstein or Knorkator.