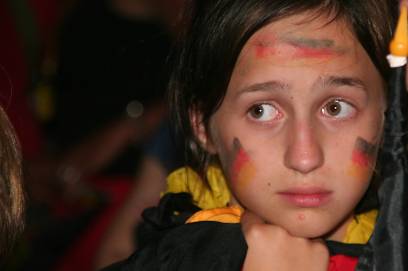 What happened in the few hours between the last posting and this one? Well, I guess a whole nation got sad.
I liked the match a lot and it was really exiting for me. Now Germany is out. Two goals in the last 2 minutes - horrible - but congratulations to Italy, your team played great.
The german team was really stunning in the World Cup. Nobody gave a shit about the bunch of very young players at the beginning of the tournament and they proved them all wrong. It might sound pathetic but the guys believed in themselves and made it to the Semi Finals.

I'm really curious how the next days will be in Germany. I hope that the good mood will stay present because it was far to good to have it only on a sports event.

Watching the end of the game at the Fan Fest was so different compared to the last matches - well, that's obvious, isn't it?
It was really silent after the second goal of Italy, there was only the voice from the TV speaker. All the people seemed to leave the square immediately. A lot of fans were sitting on the ground and looked as if a whole world has broken down.
I'm sad, too but I'm glad that that I had the chance to be a part of the whole euphoric wave in Germany in the last weeks. The whole country had such a great time and I think the world got an idea that Germany is more than Kraut, Nazis and a sense for organizing things.