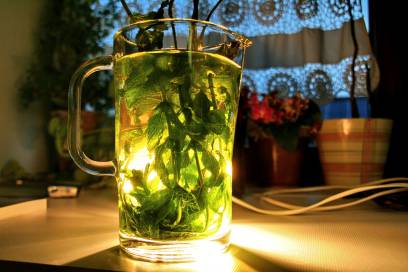 The house I live in consists of only three apartments and is surrounded by a little garden. There's a small piece of the kitchen garden that belongs to my apartment. I didn't plant anything in springtime because I didn't feel like it. Today I started to remove the weed that had overgrown my beet. To my great pleasure I discovered that the rhubarb plant from last year survived the winter (and even the spring without being spilled). If I'm strong enough I'll try to bake a rhubarb cake the next days. I really hope I'll be strong enough.
Furthermore there was some wild peppermint on the border of my beet hidden within the weed. It smelled so good that I didn't have the heart to throw it away together with the other weed. It's unbelievable that some small leaves can create such a thunderstorm in your nose.
I just made two big jars of peppermint tea with the fresh leaves. Mixed with apple juice it tastes awesome when ice cold. Stupidly I can't taste it now because the tea is still hot. Damn.

I guess for you it's just a boring posting about making peppermint tea. Actually you're right but sometimes making peppermint tea can be much more.