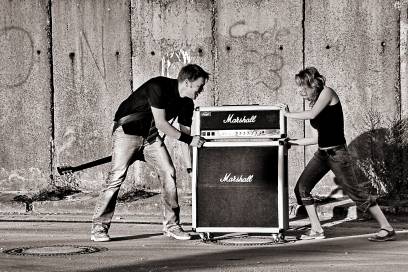 Today I had a kind of real photo session - my first one.
Together with the long haired guy (he also owns a "Fat Lotte") and a professional photographer we organized a shooting on the small harbour of Erlangen - just for fun.
The white piles of sand and the concrete walls were a nice background. A background for some Rock Star pics. My colleague DMX acted as the guitar hero and Ms. D. played the female lead singer.
DMX was as cool as always. To shoot Ms. D. was absolutely amazing. I never saw a girl with such a glance in the eyes - even in front of the camera. Whow.

It was really funny to pretend being a photographer for three hours and I hope that this was not the last session with that folks.

I have no overview about my photos yet and I'm too tired to browse them. But you'll see some of them in the next days.