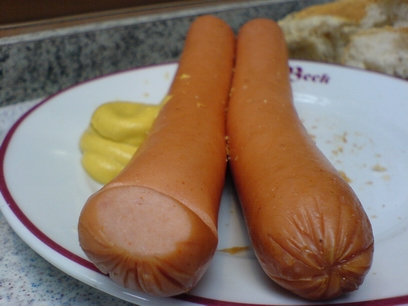 In a few minutes I'll leave to the official Fan Fest to watch the World Cup Semi-Final Germany vs. Italy.
This match is the last obstacle between the german team and the Finals in Berlin on Sunday.
In German there's a proverb saying "Jetzt geht's um die Wurst". Literally translated it means "Now it's about the sausage" and it means "It's neck or nothing" (at least the LEO translator says so).
I don't know whether my photo shows one of that mysterious sausages but it's the closest analogy I have for my current tension.
Apart from that I have no idea what the german soccer team would do with such a sausage beside simply eating it.
Well, I'm curious how my next posting will look like - happy or sad.
In a few days this posting and the next one are only two consecutively chapters in my blog. The triumph or the tragedy that occured between them is lost. What a pity, independent from the result of the match.