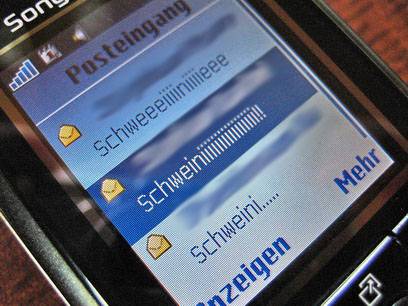 In the last four weeks I bothered all my colleagues and friends by forcing them to scream the name of a young Soccer player from the German Team. His name is Bastian Schweinsteiger but the fans call him "Schweini". The pronunciation sounds like "Swiney" and the literally translation is "Piggy".
A few years ago I watched a match of the German Team during the European Championships. Beside me a stranger yelled "Swiiiinnnnneyyy" whenever Schweinsteiger touched the ball. Since that day I'm somewhat influenced by that scream and often did it myself during the World Cup.
Schweini didn't play that good in the World Cup so my efforts to motivate my friends to join me in screaming his nickname were of only limited success. Until yesterday. In the last match of the German Team (the match for the 3rd rank) against Portugal, Schweini played great and scored two and a half goals.
Within minutes I got several text messages on my cell phone with only one word as content.

It's always great to harvest the fruits of a long education.

Today is the last day of the Soccer World Cup and two hours ago the German Team bid farewell to their fans in Berlin in front of the Brandenburg Gate. Several hundreds of thousands of fans are there and celebrate the guys in these moments. It's great to feel that the euphoria didn't stop after losing the semi final against Italy. Today in Berlin and yesterday in the public viewing areas the Germans supported their team similar to the last weeks. It seems that for some reason our people can be happy even if they are not gold medalists.

From an emotional point of view the World Cup was by far the best public event I can remember in my life. I never expected that and I'm really glad that I spent so much time attending the public viewing areas, watching the fans from all around the world or simply strolling through Nuremberg soaking up the energy that hovered above all the laughing people. I think there will be a kind of vacuum in the next days in our heads. But even if all days life conquers our life again now I know that this big joy is inside us, only sleeping.