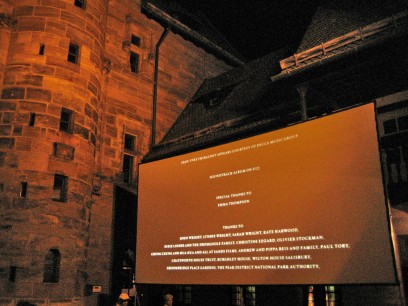 Yesterday I went to a Movie-Open-Air. They showed "Pride and Prejudice" in the courtyard of an medieval castle in Nuremberg, the so called "Tucherschloß". I like watching movies in extraordinary places and I liked the combination of aristocratic buildings around me and noble folks on the screen. That's what I really like about living in the Nuremberg area - you can have fun or culture or even strange combinations.
Although I don't know much about the origin novel by Jane Austen I enjoyed the witty dialogs between Lizzy and the ultra-cool Mr. Darcy a lot.
But the highlight of the evening wasn't part of the movie: The old castle is the home of several bats. They used the unusual audience to fly around in the courtyard. A small flying bat isn't a spectacular thing but a small bat flying through the light of the movie-projector is. The shadows the bats created on the screen looked like visits of giant vampires. It even caused applause, laughter and some "ooohs" from the audience. I hope the bats enjoyed their popularity too.