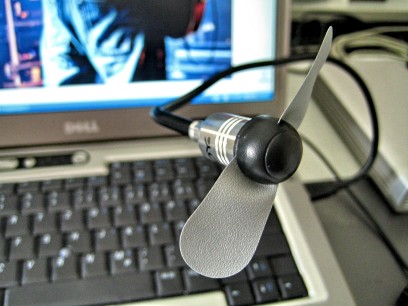 My work day purrs. The nearer you come to my desk the louder. The purring source is a little fan that it plugged into the USB port of my Notebook with flexible arm. I'm not alone. All my colleagues have such a thing. It was a present from the company during the hot summer days.
You can't imagine how tempting it was to touch the little spinning fan just to see whether it hurts. I restrained myself only for a few minutes and then my fingertips started on their mission. "Hey, it doesn't hurt at all!".
In the meantime we intensed the experience. So far it can be confirmed that one can touch the running fan with the tip of the nose, with the cheek or with the ear.
I don't know where this will end but for the moment it's cool - in the truest sense of the word. To bad that the summer is over.

PS: When it comes to fans I strongly recommend the book "Fan Man" by William Kotzwinkle. A small book about a very manic guy in NYC that dreams about building a choir consisting of young virgins with portable fans. I really love this book.