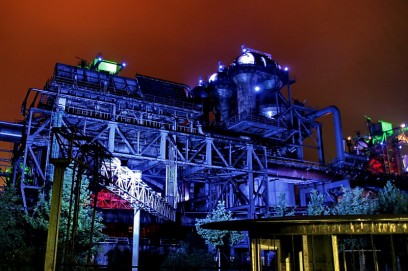 Abandoned steelworks in Duisburg at night (click on photo to enlarge).
No, I didn't manipulate the colors - the photo was shot with 10 seconds exposure time.
The factory was slightly illuminated and the red sky was created by working steelworks nearby.


Back home.
After 9 days of travelling Germany I ended my little Road Trip.
It was an interesting journey with lots of time for thinking while driving on the Autobahn. Unfortunately the weather was really bad almost every day (which had enormous impact to my mood). For some reason I'm completely unsatisfied with my photos. My intention was to shoot Germany like any other country I was travelling in. Failure. Almost no photos of people, no small details, no bizarre extremes. No idea whether it was due to the bigger camera, the bad weather or the fact that I was alone. Probably a mixture of all three aspects.
But I really enjoyed the possibility of visiting a lot of industrial ruins without anybody yawning in the background. Well, actually I shot more photos of wrecked buildings than of the main sights.
However I wasn't aware how important it is for me to share my impressions after visiting a nice place. A short phone call to a friend or a txt isn't sufficient for me. As a substitute I recorded the "Road Trip Germany Chronicles" as a kind of audio diary. I used the audio recording feature of my MP3 player to save the minutes of the journey while driving. The initial idea was to publish the recordings here on SADellite as Podcast together with some photos. Stupidly I'm far from being fluent in English and I lacked all the important words while recording. The diary consists largely of a collection of "uuhs", "aahs" and silent sections. It sounds horrible.

As a conclusion I don't want to post more details about the trip or more photos or even the audio files right now. I need some more days to sort out my thoughts.

For the moment I switch back to normal life and try to enjoy the last two remaining days of vacation.