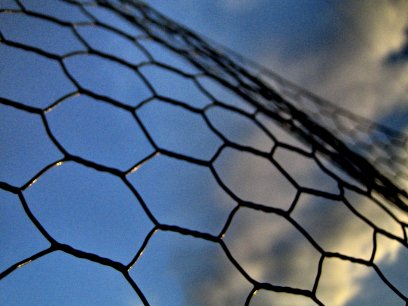 Fences. They are everywhere. Trying to keep me out or preventing me from breaking out. I don't know what I dislike more - the fence or the fence-maker.
Stupidly I'm my own fence-maker from time to time and that's the most annoying thing. But sometimes it seems to be easier to mumble to oneself "hey keep quiet, you have no chance to think further. Don't you see the fence around you?"
But not all fence-makers are smart creatures. The fence on the photo is called "Hasendraht" in german. This means "rabbit wire" because its often used for the front doors of rabbit cages. A very thin fence. In this case it was used for a more than 2 metres high fence around a factory. I guess Hasendraht is not sufficient to keep undesired human beings out. It's similar with all the mental fences. Some of them seem to be high and a real obstacle. But as soon as you come near you realize that it's only ridiculous Hasendraht and breaking through is very easy.