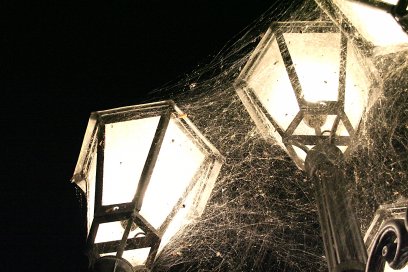 I missed the Friday posting - more than 3 hour late. Damn. But at least for a good reason.
After I left the cinema (I watched "The Perfume") I strolled through Nuremberg because there was a small festival with lots of small huts and even more celebrating people. On a small brigde I noticed that one lamp post looked strange. It turned out that it was covered over and over with cob webs with dozends of spiders on it. I never saw such a thing before, especially not in the middle of the city.
First I shot some pictures in the dark but after a while I decided to go back to the car and fetch the tripod for some more pics.
It was a little scary to see all the spiders crouching around - like in the movie Arachnophobia in minature format.
A lot of party people passed my during my shots and most of them had no idea what I was shooting. I even heard one woman say "How dumb must one be to take photos of an old lamp post". You know what? Those are the moments I love so much. It's when I realize that most of the folks are blind for the great little things in life.