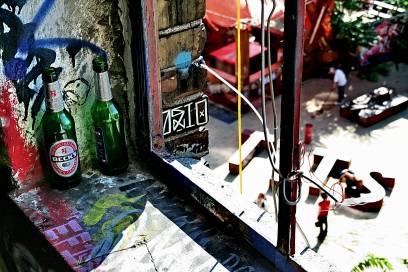 The "Tacheles" in Berlin. In former times it was a famous department store, then it was empty and rotten for many years. A bunch of alternative folks captured the building after the wall went down and turned it into a left-wing center for culture with ateliers for artists, pubs and a cinema. It's a building I automatically fall in love with.
There was a kind of beer garden behind the house. The benches were big characters made of iron. At the first glance they seemed to lay around without structure.
As I climbed the stairway I saw that the characters did have a structure. What kind of man am I when I'm not able to the the basics?
Funny that some basic facts are only visible from above.