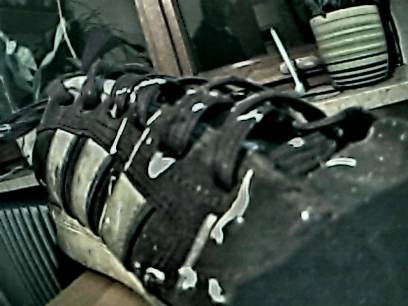 I just came back from the movies. "The Devil Wears Prada". Went there because I love Meryl Streep. It turned out that the movie was just the usual Hollywood crap. I didn't like it although it was full of awesome looking women.
Shoes from Prada played an important role in the life of the people in the movie.
I thought about my most valuable shoes and I came to this one. My good old Adidas shoes. I wore them for years and years until they turned to rotten somethings. Last time I used them while painting my apartment and there are still some white stains on them.
Probably I'll never wear them again but am I able to throw them away? Not yet.

By the way: This was the first pic I shot with my new webcam.