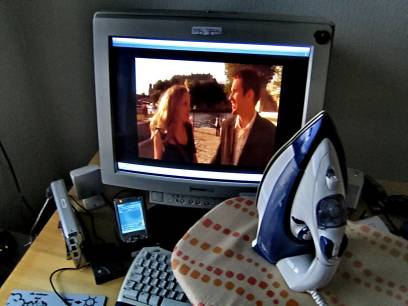 One of these awful romantic Sundays. I managed to handle the gigantic pile of clothes that waited for ages to be ironed. For some reason I moved the ironing board to my small home office and watched the movie "Before Sunset" with July Delpy and Ethan Hawke while ironing T-Shirts from Rock bands (no, I don't have a TV)
The movie is one of my all-time-favorites although it only consists of an 90 minutes dialog between an man and a woman. No action, no sex, not even a kiss.

It was the first time I did this ironing-board-movement-watching-romantic-stuff-thing and now I'm wondering whether I'm still a real man or not.

I noticed that this is already the second time my flat iron plays a role in one of my postings. Unbelievable. The first one was called Iron Man and I wrote it in January 2006. It's crazy: I used Google to find my own posting in the Internet.