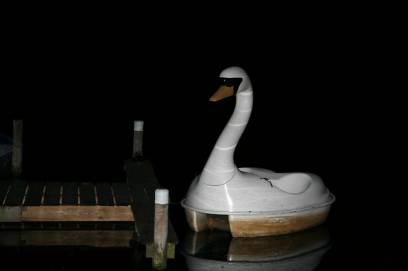 In Nuremberg there's a small lake called "Dutzendteich". One can rent pedalo boats and paddle around. They have a lot of ordinary boats and - the swan.
The swan is a pedalo boat too, but it looks like, well, a swan.
Every time I walk by I think about the swan. Actually I hate pedalo boats and I think they are very bourgeois and kitschy. And the swan is the king of all kitschy pedalo boats. But if I ever will rent a boat at the Dutzendteich, I would definitely choose the swan.
You call me a whimp? I call you ignorants!

I shot this photo at night because I planned to steal the swan.
Just kidding.