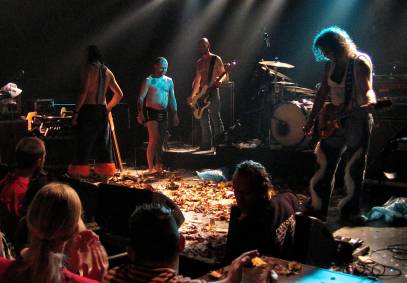 Yesterday I went to a concert of the german band Knorkator. They play a kind of Metal, the lead singer uses a high-pitched voice like the guys from the Bee Gees and their lyrics are very funny but also very politically incorrect. Sounds strange? You're damned right.
This time the very tattoed singer dragged a big sack to the stage during the concert. It was full with toast bread and the band used it for throwing it into the audience. The public accepted the proclamation of war and fired the bread back to the stage. All of a sudden the air in the hall was full with flying toast and both the audience and the guys on stage had great fun - although I have to admit that throwing toast was not important for the current song.
Later on they destroyed their organ by hitting it with an iron bar. Finally they brought some more big sacks with autumn leaves and the war with the audience continued.
I liked the mixture of energetic music and nonsense a lot. The bottom of the stage looked like after the detonation of a bomb. All was covered with toast, leaves and pieces of the organ. It seemed like a wonder to me that the singer didn't get hurt because he performed almost naked and bare-footed.
Stupidly I was not able to take a lot of photos because I smashed my small camera during jumping around like a maniac. Shit, but it was worth it - almost.