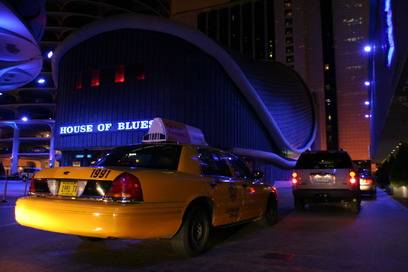 The "House of Blues" - a restaurant/bar with live music. I liked the contrast of the blue illumination and the yellow cabs.
Like in almost all restaurants I've been to in Chicago there was not a single vegetarian dish on the menu. I ended up like always: "We could make you some pasta". Really great.
But it was nice to listen to the music and watch my colleagues eat very very spice somethings without crying. Afterwards he confessed that it was "kind of" spicy. Translated from men-speech into normal speech this means "It was spicy like hell and I almost died".
Men.