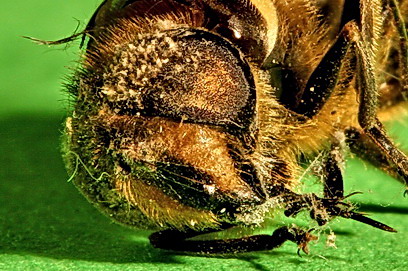 I did some experiments with my new macro lens. Shooting macros is so damn difficult. The depth of field is incredibly small. If your focus is wrong the fraction of a millimetre your image will be only crap.
I thought that insects would be a good target for a start. Dead insects, of course. Only dead ones don't move - not even the fraction of a millimetre.
But hell, how to find dead insects in winter if everything is covered with 30cm of snow? I searched my apartment but failed. Not even the small spider that used to live beside my bed was there. Apart of that I'd never kill an animal just for shooting photos. Well, even if I'd had killed it the common way by slapping it using a newspaper - it wouldn't be a good looking model afterwards.
Fortunately I have some secret agents all around. One of them put a small box with some dead insects in my mail box.
Very cool. Thanks a lot!
The bees in the box weren't in good shape any more (I guess they passed away in summer) but one has to be humble in winter. I'd have loved to shoot the insect's eyes but they were already rotten. But anyway - better than nothing.
Some days ago I ordered a small adapter for my camera and I hope I'll be able to come even closer to the objects with that thing. But to be honest - I never thought that I'd be able to see a bee that close.