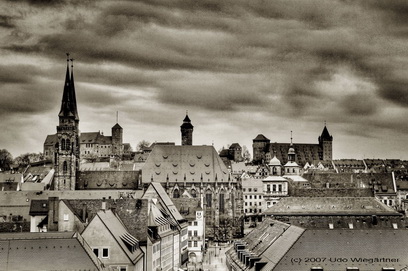 Click on photo to enlarge
This shot was taken from one of my favorite places in Nuremberg. I love to stand on the top floor of a parking garage in the middle of the city. One has a very nice view above the city up to the castle hill, the Sebaldus Church and the old brigdes across the river. It's a pity that the roof of the parking garage isn't a mandatory stop for all tourists. On the other hand - maybe it's better to keep it a secret.
Whenever I look across the city from the roof of the garage it comes to my mind that Nuremberg once was one of the most beautiful cities in Germany. It consisted of the biggest medieval town centre in Europe with many old buildings, small alleys and an atmosphere in which you could still soak up the spirit from centuries long ago.
Well, I had to read about this in books because almost nothing is left from the old pride. Nuremberg was destroyed more than 90% in World War II. Can you imagine 90%? The city was literally whiped out.
I get angry every time I think about it. The past of this town died irrecoverable only because an a**hole with a stupid mustache and his gang of murderers started a war against the whole world.
The photo is an HDR and the result of approx. 10 combined images.
There's something more I like about this place. I'll tell you soon about it.