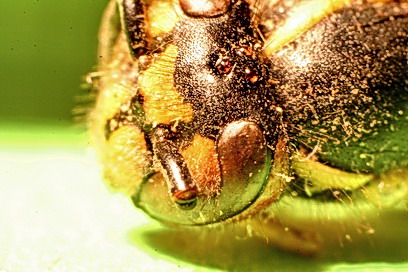 This is not a zoomed in version of the photo but the original
(Click on photo to enlarge)
Today I got my Retro-Adapter. It's just a small cheap neck ring for my digital camera. With this ring you can mount you lens to the camera in the opposite direction.
Why should one do that?
Well, this turns your normal lens into a kind of super macro lens. Very uncommon but very cool.
One has to do all the settings manually afterwards because the camera has no idea about what's going on with this back-side-front lens.
There are a lot of tricks necessary to set your lens to the right aperture value and you have to illuminate your target object with a very close torch light to see anything in the finder.
After the first few shots I thought: Hell, this is really close. I'm so exited about this neck ring that I can't resist posting one of my very first photos.
Ignore the bad sharpness and the not existing image composing.
It's a pity that I only have a few rotten bees to shoot.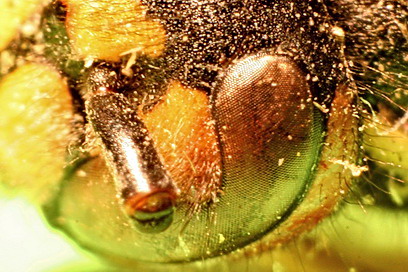 This is a portion of the photo above.