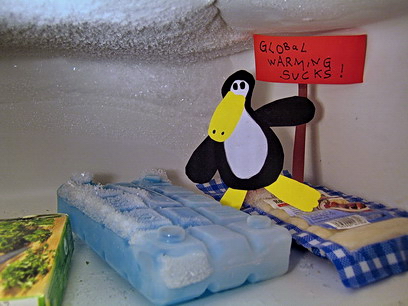 Click on photo to enlarge
Today it was the icebox of my fridge. I visited the little black-white guy that lives there for a few months now. He is really pissed because his hometown is melting in increasing speed. Unbelievable that some politicians still walk around with their eyes closed.
I want to dedicate this posting to a person that fell in love with the black-white guys a few weeks ago during a vacation in the Antarctic (no kidding).
Hey you, I finally want to see your penguin pics! Get things going!
This posting is part of my Fridge-Week-Project. One refridgerator related photo per day for one week.
PS: I think this was the first time I actually tinkered something with the colored paper I bought thousands of years ago.