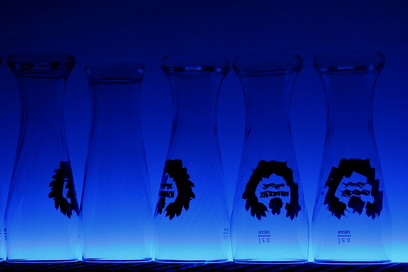 What's the big deal about that wheat beer thing?
In Bavaria it's very popular to drink wheat beer out of this special glasses.
It's unbelievable difficult for me to fill the bottle into the glass. If you hold the glass wrong you end up only with white foam that wouldn't dissappear for ages.
You drink a few mouthful and you can literally feel how your belly inflates because of the yeast and all the sparkling gas in it. It's been a long while since my last wheat beer but I didn't like feeling like a balloon.
Probably it's a masculine thing to hang around with those playmate shaped glasses and inflated bellies and all the procedures to get the stuff out of your body again. OK, I have to admit, it sounds cool to order just a "Weizen" ("wheat") or even cooler a "Hefe" ("yeast").
Well, I'll stick to my water, Coke or hot lemon stuff, be uncool and avoid killing more brain cells than necessary.
Does this kind of beer exist outside of Bavaria (or let's see the German speaking countris), too? Any hints appreciated.