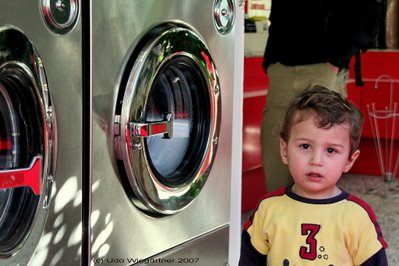 Click on photo to enlarge
Today I walked by a dry-cleaning shop in Nuremberg and saw the big washing machines inside. I entered the shop and asked the owner whether I can shoot a few photos.
For some reason it was beyond the imagination of the owner why the hell one wants to make photos of washing machines. It took me a while to convice him that I do it only as an end in itself and that I'm not from the trade control department or even from the competition.
Mr. launderette junior was very curious and thus he ended up being shot, too.
A few years ago there were ads in the TV for a shampoo called Wash and Go. For this kid being raised in a launderette it's more like "Wash and Grow", isn't it?