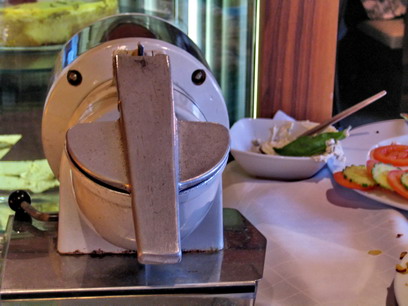 I love to look for hidden faces in my all days life. Sometimes I can't stop myself and end up finding animals and faces almost everywhere.
This one I already saw in January while having brunch in a Café. A little while ago I stumpled upon the photo and remembered that I intended to post it.
For me the machine wasn't for creating orange juice but simply a duckbill-like animal that eats oranges. I didn't dare to drink orange juice that day.
Today I saw that the machine is not for making orange juice but for crushing ice. Mmh - this means I avoided the orange juice on that day for no reason.