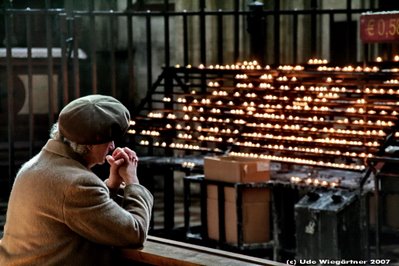 Click on photo to enlarge
Most of the time we are communicating. Most of the time we think we are in dialogues. Dialogues? Really?
I have the impression that most of our so called dialogues are simply monologues - one after another.
For me a dialogue is about listening and reacting to what the counterpart is saying.
Except a few exceptions no one is interested in what you want to say at all. When someone is listening he/she most of the time simply waits for your next comma to start the next monologue.
When was the last time that you had the feeling that someone is really intersted in what you are saying?
You might ask what the woman on the photo has to do with that? A lot.
I was never sure whether praying is a monologue or a dialogue.
The woman looked very sunken and to me it appeared more like listening than speaking.
I had kind of a fight with myself whether I should take a photo of the woman. Did I lack respect? I came to the conclusion that noticing and thinking about other people is also a kind of respect.
The woman started something inside me. For a start I will print out the photo right now and place it somewhere in my apartment just to remind me how important listening is.