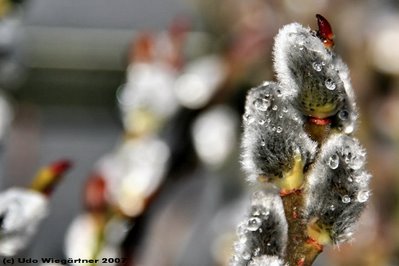 Click on photo to enlarge
I like these kind of twigs a lot. In German they are called "Palmkätzchen" and literally translated it means "palm tree kittens".
For me they are a very strong indicator for the spring.
As a child I even liked the name. I can remember that for me the little catkins really looked like little kittens with grey fur and sometimes I created little cat families out of them.
Sometimes language is poetic just by giving things names, isn't it?
I shot these twigs on a farmer's market in Fürth. The owner of the booth was an old man with a furrowed face. He saw me taking photographs and stepped by. Instantly I thought he was about to throw me off his booth. This wouldn't be unusual. But it was quite the contrary: He said in a funny Franconian accent "Hey, follow me. I'll show you some twigs that are even more beautiful".
An old man that love twigs can't be a bad person, can he?
Oh, that's what he showed me: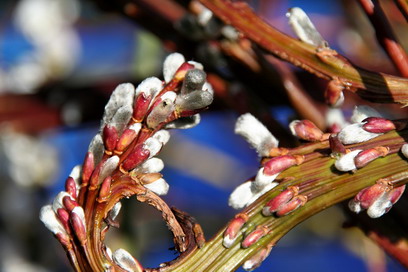 I'm not absolutely sure whether willow catkin is the correct English name. Hints are appreciated.