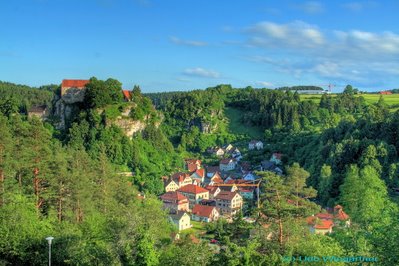 Click on photo to enlarge
Actually I like the region where I come from a lot. I enjoy every time I've the chance to be there. It is calles "Fränkische Schweiz" (Franconian Switzerland) and the landscape is full of rocks, forests, small fields with wheat, caves, rivers and mills. Really like out of a tourism brochure.
This photo shows the small city of Pottenstein with it's nice castle. It's very close to the village were I grew up.
The picture is a HDR (high dynamic range) photo and is a overlay of 14 images of the same scene shot using a tripod.
By the way: I'm on a business trip the next days. No new posting until Sunday.