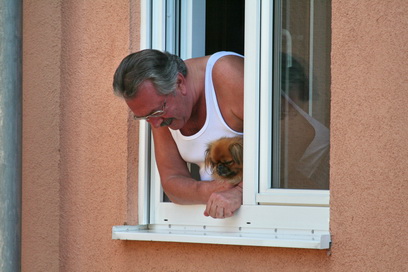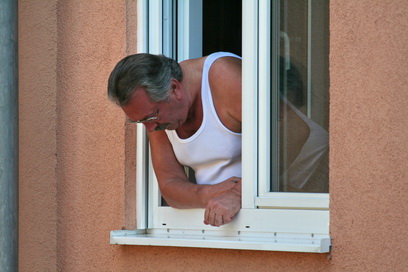 This guy lifes in the house near my office. We are kind of friends. He doesn't know about it but I can watch him from my desk. He's living in the 3rd floor and he often looks out of his window for a long time - most of the time together with his small dog.
Today a strange thing happenend and luckily I was able to create some evidence photos.
Between the two pics were only a few seconds. The dog was there on the first photo and a few seconds later it was gone and the man looked down in a very suspicious way.
Hell no, did he really drop his brave little barking friend from the 3rd floor?
Unfortunately I was not able to find out more because a colleague stumbled in and bothered me with some project crap.
But the man should be aware: I have an eye on him now.
BTW: My new 400mm zoom lens is really brilliant.