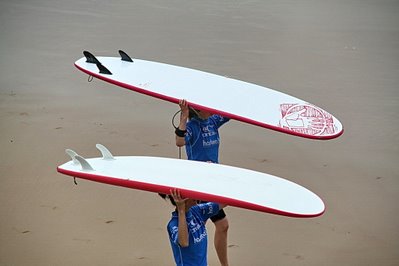 Click on photo to enlarge
Salt. It's salt you smell on your lips. The board above your head seems to have no weight at all. The sun is somewhere behind the board. You look down and realize that your footsteps fill up with water as soon as you lift your feet.
You realize that your buddy starts to run towards the water. He has a big smile on his face. Your pace increases too as your board seems to drag you to the water like a dog that fights with its leash.
After a few seconds and a splashing noise you found yourself paddling on your belly towards the open water.
The waves get bigger and bigger and you know that the moment for jumping up on your board is near. The goose flesh on your cold skin doesn't matter any longer.
You know what? Your all-days-life can be just like that. You simply must not miss the right moment for standing up.
I shot the photo in Biarritz, France, two weeks ago.