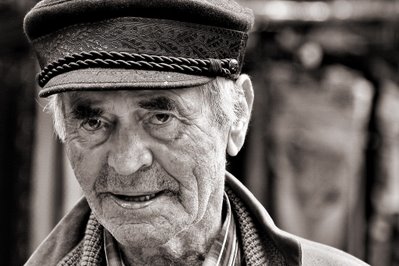 Click on photo to enlarge
This old man was the owner of a booth at a small farmer's market in Hamburg. Actually it wasn't a real booth but only a small table with some mixed stuff. All he offered was some batteries and a few small knifes. It was quite obvious that he wasted no thoughts about "target markets" and "core competencies" and I doubted that he can make a living out of the money he makes with this small things.
He told me in very broken German that he's doing this for more than 15 years now. Unbelievable.
In the end I hardly understood anything he said but this didn't matter. He was glad that I shot photos of his small knifes and I was glad that he told me about his life - even if I had no idea about the language he spoke.