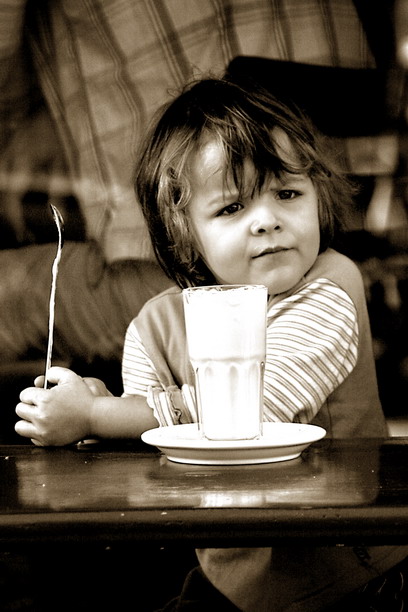 A posting in a blog I read regurarily about a small girl sipping milk reminded me of a girl I saw last autumn in Berlin.
I had breakfast with a friend in front of a small café. Beside us a small girl and her father were celebrating easy living. He was drinking a coffee and she was enjoying a big glass of milk. Every few minutes she was cheering "is that gooood".
That "gooood" was really great and makes me smile every time I think of it. One could really see that the girl was very concentrated and dedicated to what was doing. Sometimes it's visible that a human being is thinking - that was one of that situations.
I was so enchanted that I shot some photos (yes, her father saw and allowed it by nodding).
The milk girl photos are really special to me.
Maybe now it's a good point in time to publish the shots of my favorite milk girl.
I hope she kept the ability to enjoy the small things in life.