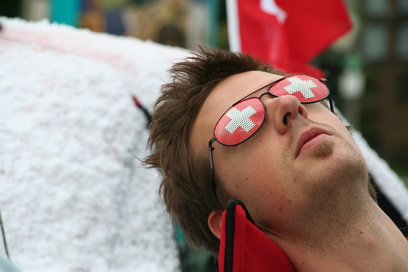 I was in Hamburg for the weekend and visited good friends. On Saturday we made a digital hunt with our cameras through the city. As always we gave us some photo assignments. One of them was "
Summer anyway!
".
It was cold and raining and it wasn't much like summer at all.
Then we saw a red car near the St. Pauli Landungsbrücken. A red car covered with...snow.
"Summer anyway" – just perfect.
We jumped to the two guys sitting beside the car chilling in the (invisible) sun and shot some photos.
While shooting photos and chatting it turned out that they simply were on promotion tour for a Swiss airline. We joked around a lot and they gave us some merchandising junk including postcards with a Swiss airplane.
This brought me to the idea that the Swiss guys should write us a postcard. I bought some stamps, wrote my address on the card and handed the postcard together with a pen back to the chilling guys.
After the usual second with surprised faces the guys smiled and started to write.
They promised to put the cards in a post box the same day.
Well, I'm very curious whether I'll receive a postcard with a Swiss airplane from Hamburg to Bavaria. Maybe even with the phone number of the Swiss girl? Crap - wake up.
Aaand - I promised myself to write more postcards to friends without a special reason.