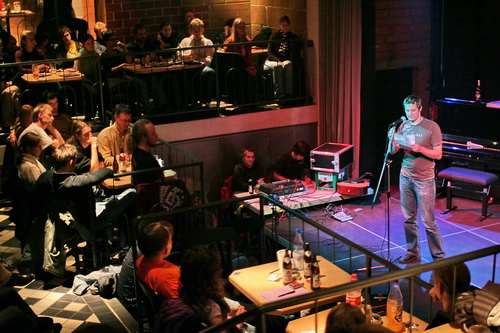 Finally I visited a Poetry Slam - kind of unexpected.
It's an event where everyone can enter the stage and read own short stories or poems. I just "visited" the slam - I didn't participated.
It was amazing how full the pub was - I never expected so many (mostly young) folks to be interested in such things.
The lectures ranged from short poems about catastrophes over vampire stories and rapped texts to very powerfully eloquent fictions about love.
Finally a girl from Berlin won. It seemed that this wasn't the first Poetry Slam she attended but she was very worthy. Her name was Sookee and she smoothed my ears (and my head) by piling up words so artful that I felt almost speechless with the few simple words I use in my all days life. Well, at least it showed the power and beauty of my language which is not a bad thing.
There was another girl reading two texts named "Plase don't stop" and "Please stop" that were very inspiring to me. The reminded me of my Lifeworthy-Lists. Actually I wanted to ask her whether she could eMail me the stuff but of course I missed her. Always the same.
I tried to force my friends (and one stranger) into writing some instant poems using the form of Japanese Haikus. I wasn't very successful and all I got was one Haiku from a friend and one from me. Maybe the themes we chose were too weird. The themes were "Katzengras" (cat grass) and "Marmeladbrötchen" (jam roll).
I'm not going to translate the Haikus and the stranger told us that they are extremely bad but it was fun to invent them. Probably I should stop bothering the world around me with stupid tasks.
Oh, just in case you are not familiar with Haikus: Mostly they consist of 3 lines with exactly 17 syllables in summary - five for the first line, then seven and 5 syllables at the end.

Katzengras
Möbel von Ikea
Nachttischleuchte vom Aldi
Dazu Katzengras

Marmeladbrötchen
Ein Bismarckhering
Ach - viel lieber wär ich ein
Marmeladbrötchen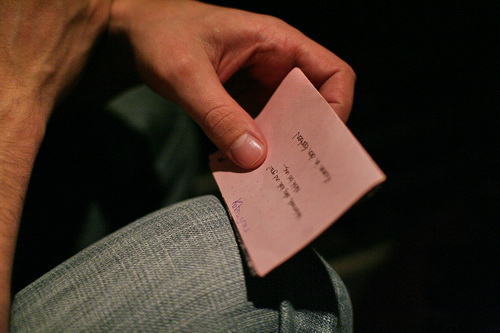 It's been a while since I wrote (counted?) my last Haiku. Although I don't plan to attend at a Poetry Slam I already found myself counting syllables with my fingers while driving home. Am I a poet now?
Up the poets!