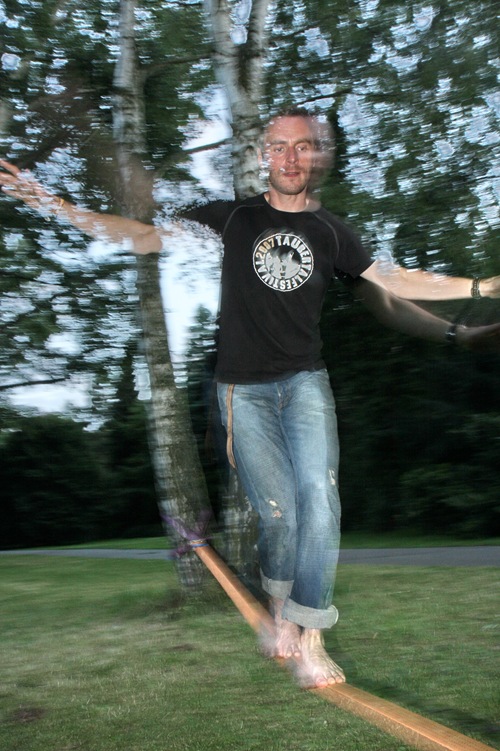 Oh my dear! I didn't know on what parts of my body I have muscles until they started hurting yesterday. I have sour muscles on my back, my thighs, my shoulders and even on my shins.
What happened?
Well, I simply did my very first tries in Slacklining.
Slacklining is a modern sounding word for balancing on a truck tension belt that is tightly stretched between two trees near the ground.
Although the belt was relatively wide I didn't think that I could stand on it more than one single second because the damn thing started shaking like hell as soon as I put a foot on it.
Together with a few friends we tried the whole afternoon and in the end we really managed to walk a 6 metre distance.
It was amazing how different I listened to my body when it came to finding balance on the belt. You have to concentrate, tense the muscles in your back and use one feet as a kind of balancing pole. 
I was so excited about slacklining that I went to a local DIY store and bought a simple tension belt. It's so great to realize how simple all-day stuff can used to improve the feeling for the own body.
To bad that the guy who brought the slack line couldn't join us because he hurt his ankle by jumping off the belt last week. This is quite a difficult thing to achieve because the line is only 30 cm above the ground.
Get well soon, Master Brownwood!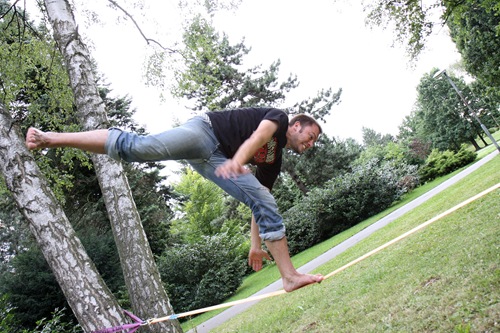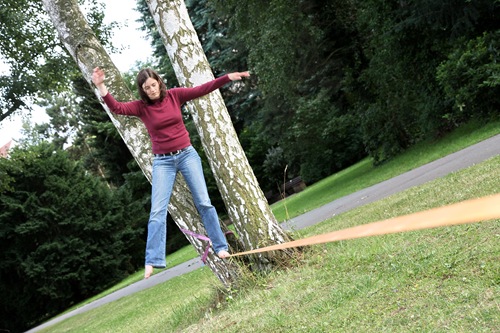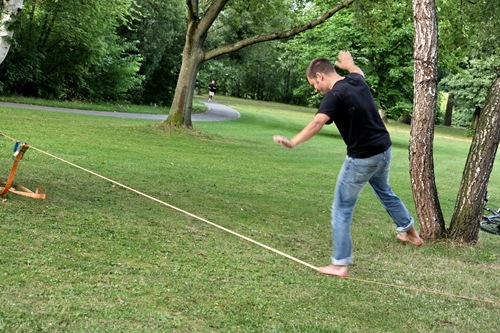 I just got two short movies from a great director called BiggerMuff showing our glamorous rookie tries. You can watch them [ here... ] and [ here... ].