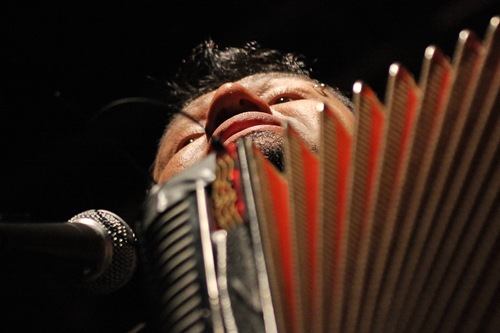 Oh my god, these boys rocked. The band was called "Che Sudaka" and the members have their roots in Colombia and Argentina.
The whole bunch jumped around on stage as if on rhythm-drugs.
It was really impossible to stand still while listening to the explosive sound of Latin-Punk, Ska and Ragga-Raggae. This is good in general but not if one tries to take photos. I messed up most of my pics with my little jumps. In the end I don't give a damn and concentrated on cheering and dancing instead of taking photos.
The energy Che Sudaka created was awesome and I don't see so much fun on stage very often. The crowd felt the same way and didn't stop cheering "otra otra" until the band performed 3 or 4 blocks of encores.

In parallel the "Leningrad Cowboys" played on the main stage. I had a quick look at their funny hairs and then walked on to the Che Sudaka. It was the best decision of my day.

[ Here ] are some audio samples of Che Sudaka.