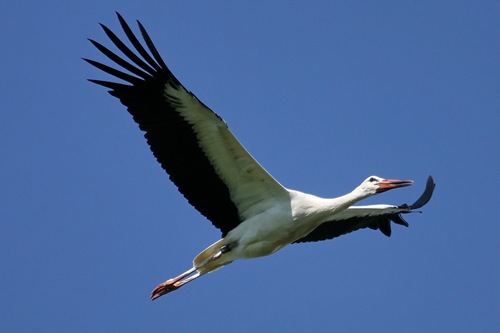 "You don't ordered it? What do you mean? It's stated very clearly on my shipping order that these 20 babies have to be delivered to you. You are this kosmonautica-guy, aren't you? Yes? OK, then it's correct. My 19 colleagues are already in their approach for landing and will bring the other kids. No, I don't know who ordered the children, my job as a stork is just to deliver children and I'm damn good at my job. Have a nice day. Oh, by the way: You should feed them soon, they are already moaning."



I live in a region where a large flock of wild storks spend the summer months. The big birds (1,50 - 2,0 metres wing span) are rare in Germany and during the first 30 years of my life I saw only one or two. Since I moved to my current place I can spot the black-white guys several times in summer.

A few days ago a friend gave me a call saying that the storks are sitting on a meadow nearby and that I should fetch my camera and run there. I did and waded through very moist areas to get a glimpse at them. It was very impressive to have them flying right above my head. Because storks are rare it's not allowed to sneak closer. My 400mm lens helped a bit to shrink the distance.

I don't know whether it's a habit in other countries too but in Germany it's said that the storks bring the babies. I hope I will not come into baby troubles just by visiting the storks.