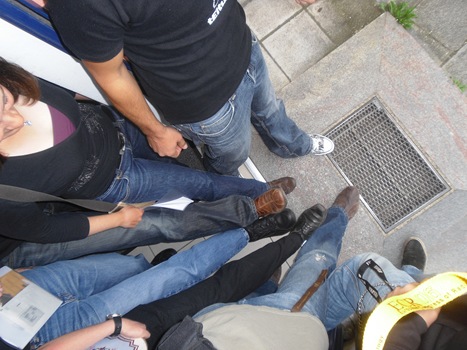 Today was the official last day of my team and me in our current job because we leave the company.
I tried to capture the moment of stepping out of the building for the last time.

The moment wasn't as sad as it might sound because we had a lot of time for farewells during the last months and we spent a great summer together. The sad days lay back some months now.

I was amazed how tightly this team was tied together. We had a lot of fun together and created some really cool software.

Folks, you were the best team in the world and it was an honor and a pleasure to work with you. Does this sound pathetic? Yes? Good, because it has to. The Internet is a stage just big enough to announce that. You rock!
Wish you all the best for your future and I'm pretty sure you will make it.
I made a photo from exactly the same motive more than a year ago in March 2007. It's really strange how different the stories behind similar looking photos can be. [ Here is the photo from last year ].