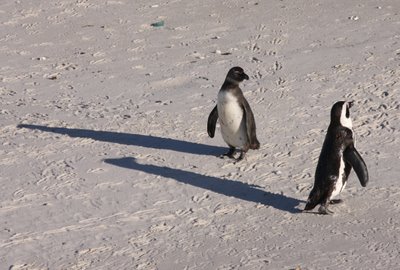 Penguins and whales don´t live in the big city so you have to be flexible in case you want to meet them. In my case it meant to rent a car and drive on the left side.
I had some absolutely great days in the Capetown region. Responsibly for a big share of the fun I had were some new friends I met in Johannesburg and in Kruger National Park. Some Emails, some phone calls with my South African cell phone and some luck and three respectively five of us stayed in the same hostel in Capetown spending some days together.
Prior to my journey I was concerned about spending most of the evenings and even the days on my own. Instead there were funny dinners and adventures in a multi-national rented car (USA, Italy, Germany) and a lot of deep conversation.
Some say that Capetown is one of the most beautiful cities in the world. I have to admit that I have never seen a city with such a nice combination of two oceans, green hills and a perfect view point like the Table Mountain.
We went to Hermanus to spot some whales. OK, I doubted to see one but in the end I saw approx. 50 of them even jumping out of the water close to the rocks. The looked like jumping rocks to me. I was speechless.
One day later we went to Simon´s Town because made me smile all day long.
I know that I am a bit romantic but the sunsets while driving along the coastline were over the top. Every fives minutes I had to press the ´save´ button in my had for conserving the magic of the moment.
It will be hard for my next countries to outwit the weeks in South Africa. I had a really really great time there and found very unique new friends.