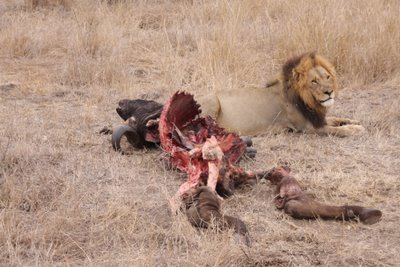 Click on photo to enlarge.
Can you imagine being waked up by the roar of a lion? I couldn´t but now I know what it is like.
For a few days I was camping in the Kruger National Park in South Africa.
I slept in a very small tent close to an electric fence that separated the camp site from the bush. The nights were filled with the roars of the lions and the screams of hyenas. For some reason I had confidence in the electric fence and wasn´t afraid.
The scare-meter went higher when I was forced to kill the first scorpion in my life. The guy was sitting inside (!) my tent just beside the zipper. After breathing very hard for a few minutes I murdered it with my Flip Flop. I am brave, ain´t I?
During the day I drove through the park on the back of an open 4wd truck together with a few other folks spotting for wild animals.
It was damn impressive to see herds of hundreds of zebras crossing the road just in front of your car or to watch a lion family having a buffalo for dinner. I wasn´t expecting that the elephants, giraffes or warthogs come that close to our car.
The most challenging thing was not to cope with the wild animals but to eat the food our guide respectively we as a group prepared on small picnic grounds.
Although I saw only 4 out of the ´Big Five´ (elephant, lion, rhino, buffalo - the leopard was missing) it was a great experience to be far away from civilization.
Well, not that far away - @Meix+Prinzinnen: In the shower room of the camp site in the middle of nowhere I saw my first tube of ´Tony & Guy´ shampoo. Weired, isn´t it?